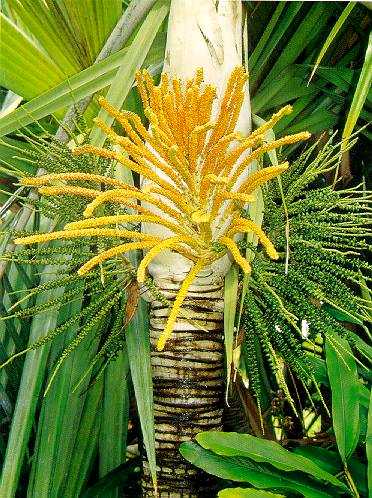 Size: Slowly up to 30 feet (9 m) up to 18 feet in diameter (5.4 m)
Min. Temperature: 30°F (-1°C)
Water Requirements: Regular water, and high humidity
Sun Requirements: Light shade
Origin: Mascarene Islands
Germination: 2 to 4 months
Leaf: Pinnate, 10 to 20 leaves, each with 120 leaflets, green on top, brown scales on the bottom., up to 12 feet long (3.6 m). unarmed, 8 to 12 inches (20 to 30 cm).
Trunk: Crownshaft, Gray, swollen at the base, with vertical fissure, 8 inches (20 cm) in diameter.
Flower: Cream to red, male and female flowers on the same inflorescence.. Flower stalk coming from below the crownshaft, 18 inches long (45 cm).
Fruit: Reddish black when ripe. 0.75 inches long. oval.
Seed: oval, pointed, with ridge from one end to the next.